Planned Giving for Financial Advisors
Donor Advised Fund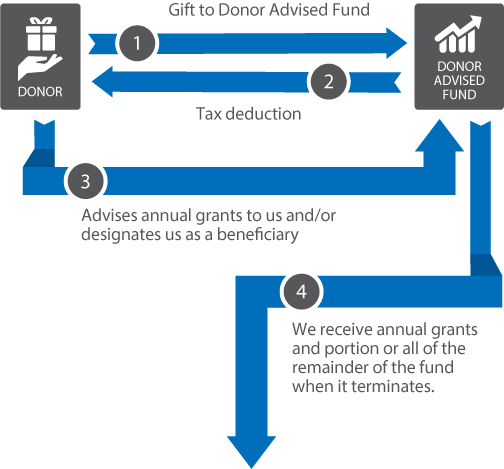 How they work
Your client recommends Gaylord Hospital as the recipient of annual grants from her Donor Advised Fund.
Gaylord Hospital receives annual grants from your client's Donor Advised Fund and a portion or all of the balance in the fund when the fund terminates.
It is important to advise your client that:

Her annual recommendations regarding the beneficiary of her funds is not final, the trustee may override her wishes regarding gift recipient or amount (although this is extremely unlikely).
Your client will receive an income tax charitable deduction when she establishes the fund, but will not receive additional tax benefits from her recommended gifts from the fund after it is established.
Benefits for your client
Your client will use funds she has already paid into her Donor Advised Fund to support Gaylord Hospital annually without affecting her cash flow.
Your client can direct that the annual grants or funds distributed at the Donor Advised Fund termination be used for particular purpose(s) at Gaylord Hospital (please consult with us to make sure your client's gift can be used as intended).
Your client will maintain the flexibility to designate future gifts from the Donor Advised Fund.
In This Section