Meet Our Donors
We thank all our planned-gift donors for their generous support. Here are some of their stories.
Bob Fechtor: "At some point, everybody needs some help"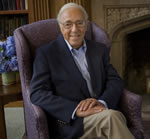 "At some point, everybody needs some help," says Bob Fechtor, whose awareness of charity as a sacred obligation was instilled from an early age. Throughout their marriage, Bob and his wife, Louise, chose their charities wisely even as they were raising three sons. In the early 1950s, Louise was diagnosed with heart valve problems that would remain an issue – but not an obstacle to living a full life. "She and I traveled to more than 90 countries," says Bob, his delight still palpable.
Unfortunately, in 1998 Louise had a paralyzing stroke during valve replacement surgery, which affected her entire left side. After the stroke, she came to Gaylord. "The care Louise received was fantastic in every way," Bob says. "I'd sum it up this way: Gaylord doesn't treat the malady; it treats the person."
Louise lived five more years and with a few adaptations Bob and Louise were able to continue traveling. After Louise died in 2003, Bob decided to do something special for Gaylord patients. During Louise's time at Gaylord, he became acutely aware of items not covered by insurance, but which he could afford to provide his wife. "It bothered me that others might be doing without something that could speed their recovery or help them overcome an obstacle."
That's why Bob and his three sons established the Fechtor Family Fund at Gaylord Hospital, in loving memory of their wife and mother. "I don't have enough to give tremendous sums, but with what I have, I want to help families today because they are on the same path now that we hiked earlier. It's good to know that someone is walking down the street because we helped them to relearn to walk."
---
Annemarie Zeigler: "I'm an ordinary person trying to give back"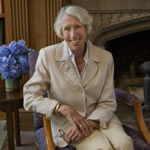 When Annemarie Zeigler emigrated from Germany in 1957, she brought clinical laboratory skills to her new job as a medical technologist at the-then Gaylord Sanatorium. "I thought I would stay for a year and then move on. One year became two, two became three, and I spent my entire 35-year career at Gaylord," she says.
Early on, Annemarie lived with a number of staff members in one of the cottages on campus. "We were on call 24/7," she recalls, noting that because she did not yet have a driver's license, the arrangement made it far easier to respond when doctors needed timely test results. Her work involved clinical chemistry, hematology, and microbiology.
In 1966, Annemarie married William Zeigler, a state fiscal officer whom she had met through his sister; they lived in New Haven. In 1986, he had a massive heart attack which led to triple bypass surgery. Severe heart failure ensued. "Bill's doctors said nothing more could be done for him," Annemarie says, recalling her distress. "I called then-medical director, Dr. Curtland Brown, to see if he could be admitted to Gaylord. He asked me if Bill could eat, and when I said 'yes,' Dr. Brown told me that he could be a candidate. Gaylord gave Bill back to me for another three-and-a-half years."
In gratitude for a satisfying career and for the additional years with her husband, Annemarie opted to make Gaylord Hospital a beneficiary of her retirement life insurance and has also included Gaylord in her will. "I'm just an ordinary person trying to give back what is impossible to give back fully," she says. "I made many wonderful friends in my years at Gaylord. I can never give back as much as I have received."
---
Gail Bonner: "Gaylord gave me my mother back"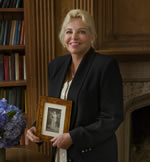 Gail Bonner remembers the exciting day in the early 1950s when she proudly climbed on her two-wheeled bicycle to show her mother that she had learned to ride. At the time, Gail's mother, Elizabeth, had been a patient at Gaylord Hospital on and off (mostly on) for several years, under treatment for the highly contagious disease, tuberculosis.
"My mother contracted the disease either in college or shortly after graduating, but it took until she was in her late twenties to diagnose it," says Gail. So, while her husband was overseas serving in World War II, Elizabeth Bonner spent much of the time in and out of Gaylord. "When the War ended, my father and mother lived with her parents and aunt in Westerly, Rhode Island, and I was born a year later. When I turned two, my mother's tuberculosis flared again, so back she went to Gaylord."
The challenges to the family were profound. "My father had just started a business and been elected to political office, so he had many demands placed on him," Gail reflects. "Fortunately, we lived with my grandmother and my great aunt, who became my second mothers." Despite a nearly 100-mile round-trip from Westerly, Gail's father and grandmother took her for regular visits. "I remember Gaylord as a most beautiful place, especially in the winter."
Because tuberculosis was an airborne disease, these visits did not include the normal hugs, kisses, and other signs of affection. Rather, Gail stood at a screen door and talked or played outside as her mother looked on from a cottage porch. Poised on her bicycle that special day, Gail pushed off and, giving the pedals a few tentative pushes, plowed straight into a flower bed. Then another set of plantings. And finally, momentum achieved, rode straight down the sidewalk to her mother's proud applause.
"I can't even imagine what it was like for my mother to be separated from me for nine months to a year at a time." says Gail. "But I do know that she formed incredible, lifelong bonds with two other women -- Nedda Tuttle, and Ginny Garrand – who were in the same situation. The three of them, and others, suffered a unique trial at a unique time. They helped each other keep going."
All three would eventually be cured. Gail's mother, who had an annual checkup at Gaylord for the rest of her life, died in 2001 at age 89. Her dear friend, Ginny, died the following year. At that point, Gail was visited with a strong desire to reconnect with Gaylord. "Gaylord gave me my mother back," she explains. "Only in my later years have I come to realize how much I owe this wonderful place." Gail has chosen to follow in the footsteps of her mother and her two close friends, all of whom left something to Gaylord in their wills, and to include Gaylord in her estate plans.
---
Nancy Gaylord: "I'm pleased to be connected"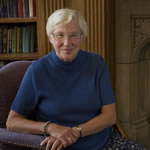 Nancy Gaylord reconnected with the hospital that bears her grandfather's name in the late 1990's. The 500 acres that now comprise Gaylord's campus were first purchased by Dr. Moses Gaylord in 1793. In 1902, Nancy's grandfather, Dr. Charles Woodward Gaylord, transformed the use of the land for a cause close to his heart. "His brother, William, had had TB," explains Nancy, "so he understood the need." Dr. Gaylord agreed to sell the land for a very modest price.
"Gaylord helps people get back on their feet. I'm pleased to be connected to the place that my grandfather's generosity helped make possible. In that spirit, I've made a provision for Gaylord in my will. But," she laughs, "I tell them not to hold their breath because I could live a long time! It is my hope, and wish, that I will be able to leave a gift to Gaylord, no matter the amount."
---
Jane Daly Crowley: "Gaylord remains important to me"

As a former Auxiliary President and Hospital Director, Gaylord has always held a special place in my heart. It was through my volunteer activities at Gaylord that I honed leadership, public speaking and organizational skills that helped me re-enter the workforce.
Even though I am not as actively involved with Gaylord today, each time I review my estate plans, I continue to include a gift for Gaylord in my will. Gaylord remains as important to me today as it did way back in the '70s and '80s. I hope that many others share my commitment to this fine organization and the miracles' it performs by including Gaylord in their estate plans.
---
Mary-Pat Cottrell: "I can affect the life of a patient"

"Twenty-two years ago, I became associated with Gaylord Hospital, volunteering my time — first as a Director, and recently as Chair of the Development Committee. As the daughter of a father who was brain-injured, I know first-hand the struggles patients and their families must deal with to recover a level of normalcy and independence in their lives. As a Gaylord volunteer, I know of the quality and leadership Gaylord provides in both rehabilitation medicine and therapy for those who have suffered not only brain trauma, but stroke, spinal cord injury, respiratory and other medical complications brought on from illness, surgery and serious wound issues.
This is why I chose to include a bequest in my will for Gaylord Hospital. I now know that I can still affect the life of a patient or another family, like my own, by making a gift that will enable Gaylord to maintain and improve its clinical care. My mother always said 'live life to the fullest… it is such a gift.' And life at its fullest brings joy as well as sadness, tribulation as well as triumph. I would encourage anyone whose life has been changed by Gaylord to consider giving the gift of hope to the next generation. I know my bequest will allow others to live life to the fullest thanks to Gaylord."